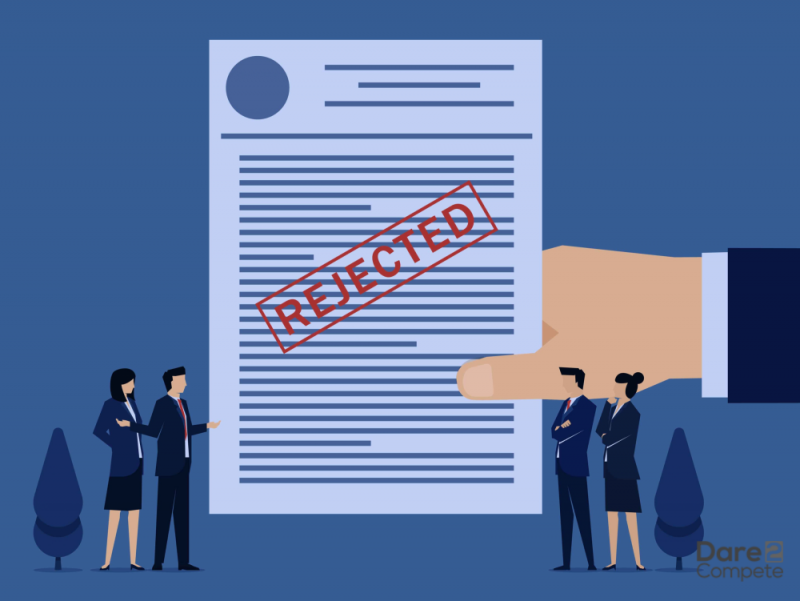 "I should have worn the blue tie instead of grey. I may have been rejected because I fumbled while answering. Should I have elaborated on my skills more? Oh! It would have been better if I would have spent some time in perfecting my hair or polishing my shoes". Apprehensions like these are common once you face rejection during campus placements. But assuming the reasons and resenting why you didn't do something you should have, won't take you anywhere. 
However, rejections can help you learn lessons you otherwise would've missed. They teach you the art of dealing with a NO. You learn to look within and analyze your flaws, the do's and don'ts, so that the next time you sit for an interview, you know how to crack it!
To assist you, we have arranged a list of ways that will help you in dealing with rejection during placements.
1. Take your time to accept the rejection
Handling rejections can be tough especially if it's the very first time that you've been rejected. But it is always better to take time to accept it wholeheartedly. Everybody has a way out, a coping mechanism; some get over things quickly, while others don't. Do not rush to get out of the pain. It is only after you've felt it completely when you'll get ready for another stride. You will need time to analyse what went wrong and take steps accordingly so that you do not miss the next opportunity. Also, even though it is good to grieve over rejections to understand what you mustn't do the next time, you shouldn't let one rejection take a toll on you.
2. It is not the end of the world
Once you've accepted your rejection, it is essential to understand that this one rejection does not mean that the world has come to an end. At the end of the day, this was just another interview. In a world where there is plenty of fish in the sea and a lot many options to explore, do not get disheartened. You might have better options waiting for you to take the first step towards them. Do not lose your motivation just because you got rejected in one interview. Instead, list your strengths and weaknesses and work on them. Remember the quote by Bo Bennett: "A rejection is nothing more than a necessary step in the pursuit of success.".
3. Analyze what went wrong
A crucial step, post the interview process, is to recall the interview and analyze the entire process, step by step. Look for the points that you missed, the ones that could've made you the best-suited candidate for the given role. Introspect, find loopholes, the questions where you could have given a better answer. Analyze your weak areas, the answers where you fumbled, the questions where you were clueless about the answer and the places where you could have changed the course of the interview to suit yourself. To work on yourself, you need to know what went wrong so that you can make amendments accordingly. Let this one rejection teach you lessons that will help you crack your future interviews.
4. Work on your weaknesses
Knowing the problem and not working towards it, makes you a part of the problem. So, once you've analyzed what went wrong during the interview and identified your weak points, it is time to work on them and get better. Add more skills to your bucket. Get certifications that will add brownie points to your candidature. If you get nervous when facing an interview, improve your communication skills. Practice in front of a friend, because the more you practice, the better you'll get at pitching yourself to the prospective employer. Identifying your weakness is only the first step. You'll have to make sure that it does not pull you down in the future again.
5. The Devil is in the detail
Ensure that you research everything about the domain that the company functions in. Be aware and understand the latest trends that caused considerable change in the sector. Study the role of the company you are interviewing for. Understand how the organisation acts in times of change. Tap into the pulse of the organisation as it was a living, breathing being. This will not only give you talking points, but shall also help you frame your answers. Most organisations and candidates look at a cultural fit above anything else. You have to tick the way the organisation does. Going back and analysing the interview from this angle will also give you insights into what went wrong and where.
Even though the feeling of rejection during campus placements isn't one of the best, there definitely are ways in which you can make the best of it. The lessons you learn when you come across failures and rejections are the ones that stay with you the longest. These act as stepping stones, helping you climb the ladder of success. So, do not sit back and crib about why you couldn't clear the coveted interview. Instead, buck up, try and try until failures get tired of failing you and rejections stop creating obstacles in your path. All the best!