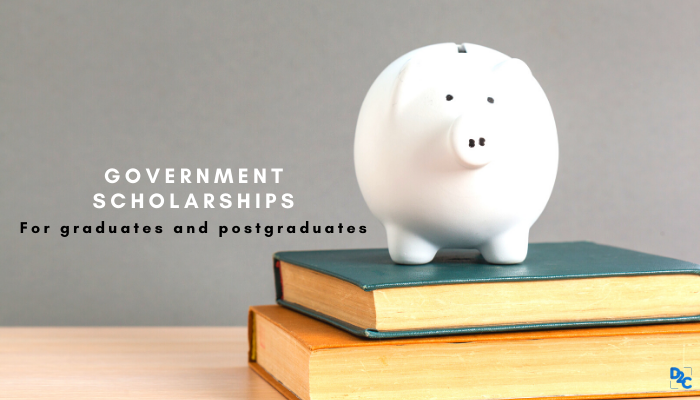 The skyrocketing tuition fees and the current economic slowdown has left students and parents gasping for air. But to help the struggles of aspiring students, the government has laid out scholarships for graduate and postgraduate students. Do not underestimate the importance of these scholarships, they are much more than a means of lowering financial pressure; they are the root of building the desired career for many students. One can,
Gain recognition and stand out among peers

Increase the probability of securing a job

Land dream university

Stay motivated to maintain grades

Focus more on studies rather than part-time work by enrolling in these scholarships
Currently, both the central and state government are offering scholarships of more than INR 10,000 crores annually for undergraduate, graduate, and postgraduate students. To help you make the most of it, we have rounded up 5 centrally funded scholarships, organized by the Government of India for Indian nationals.
Coal India Limited Scholarship 
A scholarship catering only to engineering students on the basis of merit-cum-means, every year. The applicants are assessed on the basis of rank secured in the qualifying entrance exam like IIT or AIEEE. The candidates applying for Coal India Limited Scholarship should,
Be an Indian national and not more than 25 years of age

Not be employed

Not be a benefiter of any other scholarship

Come under Project Affected People (PAP) or Project Affected Family

Pursue a full-time graduate course in colleges run by the central or state government
The list of documents required while applying for the scholarship includes the scholarship application form, birth certificate, photo identity and residential proof, 12th standard mark sheet, proof of rank in the qualifying exam, caste certificate, and a certificate for physically challenged. The deadline of submission varies, so check here before applying – https://www.coalindia.in/index.html
INSPIRE Scholarship 
Innovation in Science Pursuit for Inspired Research scholarship is administered by the Department of Science and Technology (DST). The scholarship entails 3 compartments – Scheme for Early Attraction of Talent (SEAT), Scholarship for Higher Education (SHE), and Assured Opportunity for Research Careers (AORC). To enrol in this Government scholarship for graduate and postgraduate degree, one should 
Be a student of Natural and Basic science

Lie under the top 1 percent of merit students in 12th standard

Have the rank within the range of top 10,000 in JEE-Advance/JEE-Main/ NEET 
The online application starts from November 1, 2020, and ends on December 31, 2020. However, the scholarship is applicable only for selected institutes across the country. To check the institutes and to apply for the scholarship, visit https://online-inspire.gov.in
Top Class Education Scholarship 
It is an initiative by the Government of India to encourage ST students to pursue bachelor's and master's degrees. The scholarship is open to every subject and can be availed in any of the institutes identified by the Ministry of Tribal Affairs. However, the family of the candidate should not have an income of more than INR 4.5 LPA. Also, the scholarship holder should be a student of a notified institution.
The student can benefit from the scholarship until the completion of the course with satisfactory performance. For staying posted for the deadline of this application and for more information, visit – http://socialjustice.nic.in
Merit cum Means Based Scholarship
This Government scholarship is for graduate and postgraduate students belonging to Minor/SC/ST/ OBC community and can be reimbursed for 85 listed institutes across the country. The scholarship will not be given to more than two students from a single-family. Anyone applying for the scholarship should,
Have secured at least 50 per cent marks or equivalent grade in the previous final examination on the 

Be a part of a competitive examination 

Be a holder of a single Scholarship scheme under the Central Government 
Any applicant whose family's income is more than INR 2.50 LPA, cannot enroll in this scholarship. Get to know the courses and colleges entailed under this scheme here – http://www.minorityaffairs.gov.in
CSSS
The Central Sector Scheme of Scholarship for College and University students is administered by the Department of Higher Education in order to provide financial assistance to students aiming for higher education. For this, a student must meet the following criteria:
Above 80 per cent in 12th Board examinations

The applicant must pursue a regular course. Distance learning or correspondence will not be considered

The family income should be less than INR 6 LPA

The interested candidate should not be enrolled in any other scholarship program
The required documents while filling the form are the bank passbook for bank details, Aadhaar card No., parental income certificate, and caste and disability certificate wherever required. To register, visit – https://scholarships.gov.in/
Apart from these Government scholarships, here is a list of articles related to it that can be useful in your search.