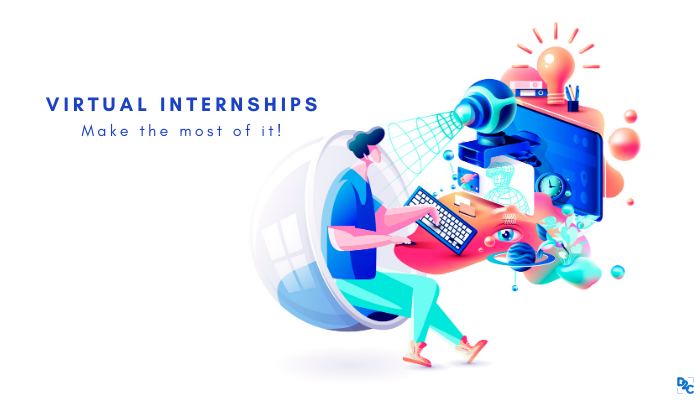 Internships are the best way to gain first-hand exposure to working in the real world by implementing integrated classroom knowledge in professional settings. There is no denying the fact that they will grill you a lot but at the same time will bestow you with a wealth of benefits while seeking a career path. However, this summer due to the Corona pandemic thousands of interns are having a dramatically different internship than they had imagined. With stay-at-home orders, everything from celebrating birthdays together to doing an internship has gone virtual. But to help you sail past the struggle, we have compiled 6 things that you should do before ending your virtual internship.
Everyone will advise you to act like a sponge, absorb everything, and be open to changes. Your peers and seniors will tell you to make the most of your internship and give an impressive first impression. But what about the last impression? Such an important stepping stone in your life needs a good closure? And if you're wondering how to mark a powerful last impression during your virtual internship, we have got your back. Let's dive in to see how you can do it the right way.
Do not rush, settle everything
Wrap up all the projects and handover to your team or next intern with utmost respect.

Don't leave a sour taste by starting anything new that you won't be able to complete in a stipulated time.

Label the

folders, arrange the documents in order, and make sure they are accessible by your teammates.

Share all your logins and passwords with your team members, if required.
Simple gratitude can go a long way
Ask for your Mentor's or the Project Manager's time. Thank them personally for the valuable guidance and inputs.

Tell your teammates or anyone who has made an impact on you that how their motivation helped you in your virtual internship.

Be unique when saying goodbye. You can think of a parting gift or a video message.

Send a decent and grateful goodbye email to the entire team
Lay the groundwork for future opportunities
If you want to work with them for a full-time job, speak up.

Tell them about your career plans, so that they can reach out to you if something comes up that aligns your qualifications.

Try conducting a short meeting and highlight your achievements, roles, and learning to remind them of all the great work you did.

Don't forget to get feedback from your supervisor. Ask how you have performed, where did you lag, and how you can improve.  
Keep in touch
Spend time to keep track of the company's growth or any changes daily or weekly even after your internship.

Get emails and contact numbers of your colleagues.

Add your teammates to your LinkedIn network.

Wish them Birthdays or congratulate them on their achievements.

Keep your social media accounts updated, you never know who's watching your account.
Respect the company
Share good and valuable things you learned during your virtual internship. Avoid negative comments on public platforms. You never know your future employer could be reading it. 

Sum up your experience on LinkedIn as soon as you complete your internship.
Sometimes things don't go as planned
Not everyone gets a good supervisor or a Project Manager. There will be ones who will not be as concerned about your growth as other mentors. Still, it is strongly recommended to tie all the loose ends neatly before leaving. Draft a report on your project, objectives, accomplishments, and everything that you worked on during the summer. One thing that you should avoid is writing anything negative or lamenting his negligence. Instead thank him, for his time and guidance in a most respectful manner. 
If you are doing a virtual internship, here are some other articles from our blog that can be helpful to you.