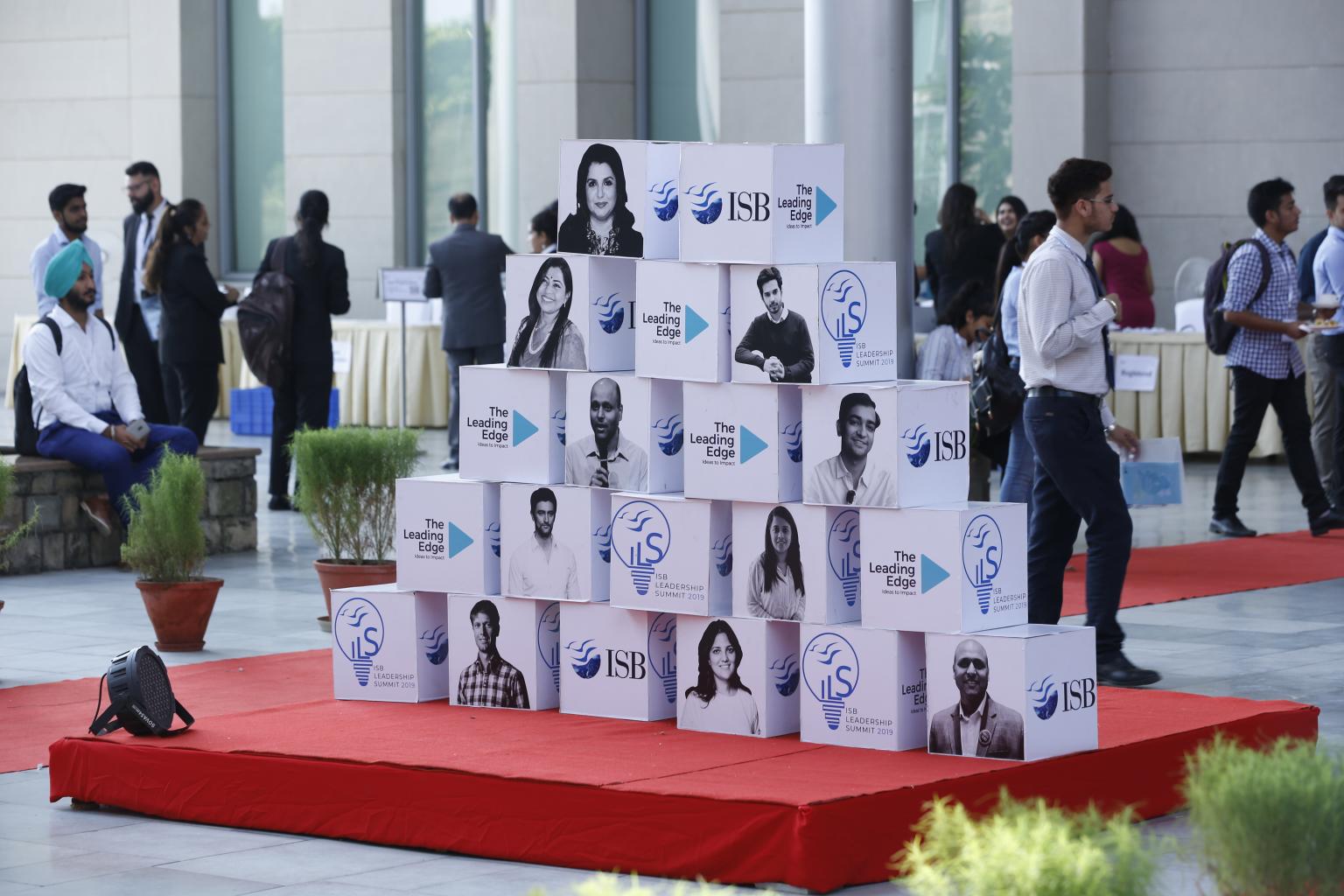 "Innovation distinguishes between a leader and a follower." – Steve Jobs. And when the top minds, entrepreneurs, industry stalwarts come together to discuss the future of business and its harmony, it is bound to be an event you don't want to miss. ISB's Leadership Summit (ILS) as it is popularly known among peers is the finest collection of talent, ideas and innovations all under one roof discussing a plethora of topics for the next-gen workforce.
'The Leading Edge : Ideas to Impact' was this year's theme for the ISB Leadership Summit held at ISB, which nestles comfortably among the premier B-schools in the country. This mega event spans across 3 days, 2 campuses, 40 speakers and ideas galore. One of the inspiring minds sharing their experiences and knowledge with the youth and other attendees was  our very own Ankit Aggarwal, Founder & CEO, Dare2Compete. Joining him were Dharamveer Chauhan, Co-Founder, Zostel, Anisha Singh, Founder & CEO, SheCapital, and Gautam Anand, Founder, Hubhopper & Forbes 30U30, who collectively spoke with vigor and created a buzz among the audience with their agenda of 'Entrepreneurship : Lessons from the Masters'.
With aspiring leaders sitting among the audience, looking on for motivation and ideation towards our panel, Ankit had this to say 'Entrepreneurship is a journey that comes with a lot of roadblocks and obstacles while you are moving forward to your destination of creating a successful company. The way you deal with these obstacles will define your leadership attributes.', something the peers on his panel agreed with and supported.
In an eloquent manner, Ankit went on to describe what challenges he faced in his journey with Dare2Compete and how he overcame those challenges to become the marquee franchise in employer branding. 'It's hard to create a new market as it requires not only excellence and rigour but consistency and discipline. You need to believe in yourself and remain positive irrespective of your circumstances and people around you.' is what he reiterated.
Apart from overcoming his own hurdles and hindrances, the IMT graduate had some advice for those budding leaders and innovators on what to look out for and how to prepare oneself to acquire a better result with lesser lag and impasses. 'Decide whether you want to run a 100 meter race or a marathon, my only advice is START TODAY as if there is no tomorrow.' he said.
This panel collectively was tuned in and hearing each other speak on their journeys and appreciating the hard work all of them and put in to reach a stage where they can inspire the future and hopefully add a few more names to that ever growing list that just keeps getting longer and longer.
Since the brands these esteemed speakers represent are mainstream and well known across the student and business world, it was only a matter of time that they would be bombarded with questions from anxious students trying to find out as much as they can from them which would help them in their own future endeavors.
These seasoned veterans of the entrepreneur world could relate to these enthusiastic students and their questions and were taken down memory lane when they too were looking for answers to similar questions. A welcome experience no doubt for each of them to which Ankit said 'It's really important to have different vantage points in life and in business. These opportunities provide students with learnings from the journey of other entrepreneurs and be always hopeful and positive in their pursuit to start something on their own'.
The culmination of this panel saw some enlightened minds, satisfied faces and upbeat hearts that surely got the answers they were looking for and will hopefully put them to good use when they venture out on their own. With the conclusion of ILS 2019, the next version promises to certainly garner more attention and a fresh bunch of hungry and budding talent waiting to make a mark on the world.