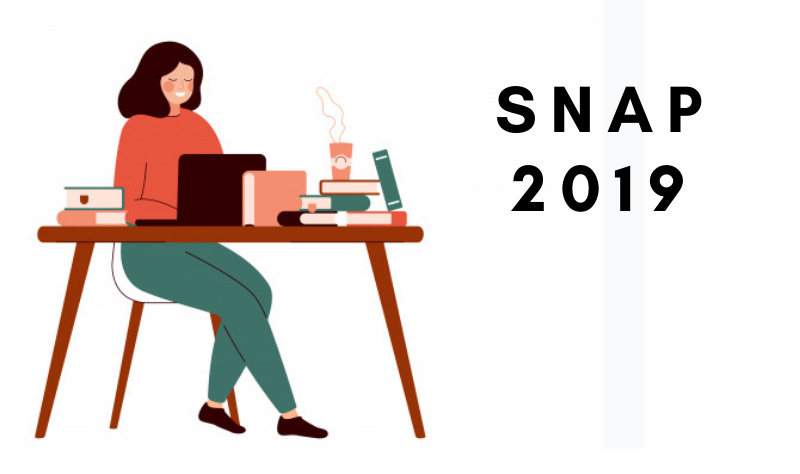 Standing in front of the college gate, you're in awe of its magnificence. Blinking your eyes twice, you stand there for a while, bewitched by its beauty and the magnanimity of its aura. You've finally landed in the college you had dreamt of, all these years. A flicker of light appears and then it's there no more. You open your eyes to realise it was all a dream. A quick glance at the calendar makes you jump off the bed, 9 days to go for SNAP 2019. The countdown has begun!
With CAT and IIFT exams over, SNAP is another entrance examination MBA aspirants are looking forward to. Ranked amongst prestigious MBA entrance examinations, SNAP, short for Symbiosis National Aptitude Test, is scheduled to be held on 15th December 2019. With a few changes that have been introduced this year, you'll need a few tips to ace this year's examination. But before we begin, let us take a sneak peek into the changes that have been introduced for this year's paper.
Major highlights of SNAP 2019
The number of questions have been reduced to a total of 110 which must be attempted in 120 minutes. The maximum marks stand at 150. 

Few special questions, non-MCQs, have been introduced. There will be a total of 5 such questions. Other than that, there will be 105 non-MCQs.

The General Awareness section has been wiped out from this year's paper. So, the examination paper will have the following sections: General English, Analytical and Logical Reasoning and Data Interpretation & Quantitative Ability. 

A negative marking of 25% will be applicable for each question, irrespective of the marks allotted to any particular question. 
To ace each section with ease, go through the following tips. 
General English
Comprising 34 questions in total, this section will not have any special questions. 1.5 marks will be awarded for every correct answer. This particular section is devised to understand how well versed the candidate is with the English Language. Covering all nuances of the language, the General English section envelops everything from grammar and vocabulary to reading comprehension. 
To nail this part of the paper, you'll have to immerse yourself completely in books. Read newspaper articles, blogs, novels to get a hang of correct and incorrect sentence structures and grammar. Focus on vocabulary, jot down words you haven't heard before. The habit of reading improves the speed and also the comprehension abilities, which plays a crucial role in the examination. 
Data Interpretation, Quantitative Ability and Data Sufficiency
This section will have 40 questions in total. The paper will have 35 MCQs and 5 non-MCQs, with an allotment of 1 mark for every correct MCQ and 2 for every correct non-MCQ. Primarily designed to test how comfortable a student is with numbers, this section judges the quantitative aptitude of the candidate. Comprising both, logical and mathematical questions, the only strategy to ace this section is practice. 
Try implementing approximation techniques for quick calculations. Work on your basic concepts and figure out your strengths and weaknesses to decide which questions you're comfortable with to manage time effectively. This will help you maximize your net score. 
Logical Reasoning
Carrying 1.5 marks for each correct answer, this section will have a total of 36 questions, all of which will be MCQs. There will be no special question in this question. A variety of topics will be covered under this banner including family-tree, linear arrangements, sequencing, syllogisms, etc. Speed plays a crucial role in this section. You must be well-versed with the type of questions, with an understanding of the questions you have a grip over. This will help you score better in this section and thus maximize your net score. 
Select questions which you can solve quickly and skip the tedious ones. Go through previous year papers and give as many mock tests as possible to get a better understanding of the type of questions that will appear in the paper. This section is scoring, play to your strengths to ace this part of the examination paper. 
Strategy for the D-Day
With 9 days left for SNAP 2019, it is essential to form a strategy for the day of the exam. Here are a few tricks that will come in handy on the D-Day:
The idea is to cover maximum ground. You may do so by attempting as many questions as possible. Choose these questions wisely.

You can switch between sections in the SNAP paper. So, attempt sections accordingly, first being the one which you are most comfortable with. Attempt easy and scoring questions first. 

Do not spend a lot of time on one particular question. If you get stuck in a question, move to the next. 
The examination day is almost here. Focus on the paper and do not try learning new concepts now. Revise the basic concepts. Stay calm and breathe. You are a warrior, you can do this! All the best!