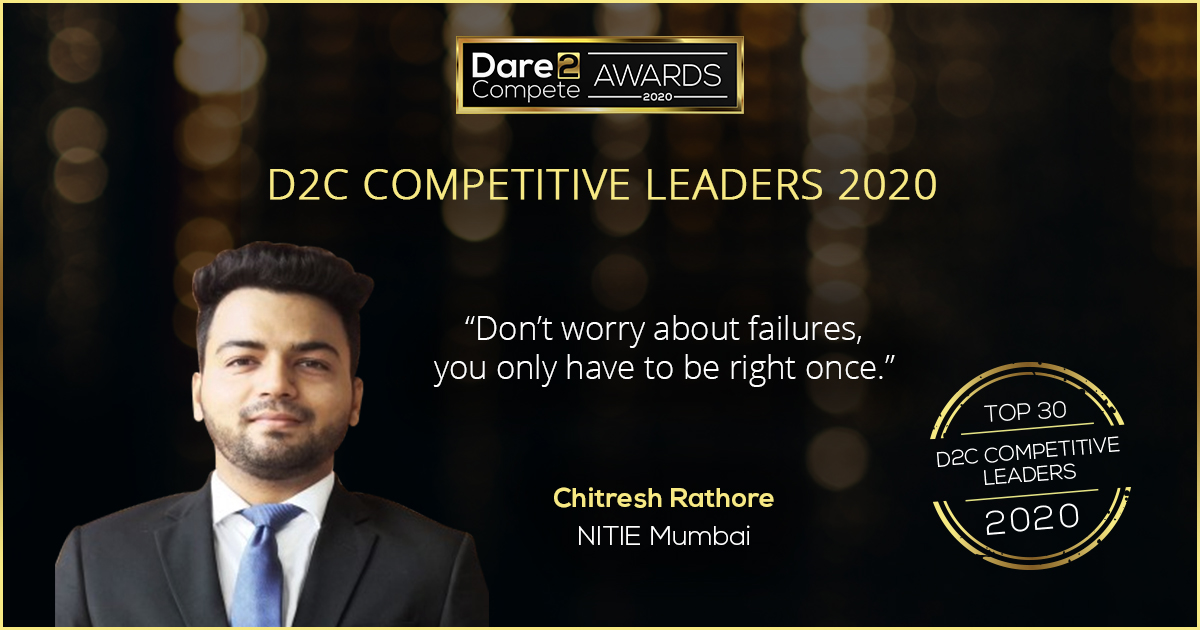 To acknowledge the zeal, unwavering dedication, and learning spirit, Dare2Compete has acknowledged Chitresh's success in various B-School competitions. It is his constructive attitude that has helped him to transform more of his dreams into reality. This is what he has to say about ranking in the Top 30 D2C Competitive Leaders 2020.
ELATED! I felt a sense of accomplishment when I saw my name among Top 30 D2C Competitive Leaders 2020. While the journey to this hard-earned honor was enriching, the honor itself is gratifying. I could sense how happy my near and dear ones were with this achievement based on their act of putting up the D2C posts on their WhatsApp status.
There is no limit to perfection
When we fail, our level of expectations from us rises. When we succeed, others' level of expectations from us rises. In the initial stages of this journey, my team failed to make even to campus rounds. But we learned from every failure and bounced back with even more enthusiasm. Each time we improved, our colleagues expected something better from us. This zeal to keep learning and living up to the expectations ignited the spirit to improve and compete.
The team and its high aspirations
While others were targeting campus rounds of case competitions, my team was burning the midnight oil to present at the grand finale. This helped us mentally prepare for all sorts of difficulties. We had each other's back during tough times. We agreed, we disagreed with each other's opinion but never let any discussion end in vain. 
Besides, the college faculties and batchmates helped us to find a way out when things were getting out of hand. When we see so many people standing by us to support and encourage us, no difficulty seemed big enough to stop us from outperforming.
Question your failure – A message to aspirants
Focus on 'why', it will help you answer how and what! – My success in case competition thrived on piles of failed submissions. Those failures have taught me one of the greatest lessons of life i.e. if you want to win a race, establish the bigger objective – 'WHY'. It helps in approaching the problems in a structured way. Above all, don't worry about failures, you only have to be right once.
D2C Competitive Leaders 2020 is a part of Dare2Compete Awards 2020, held every year to celebrate excellence portrayed by stakeholders of the B-School ecosystem.