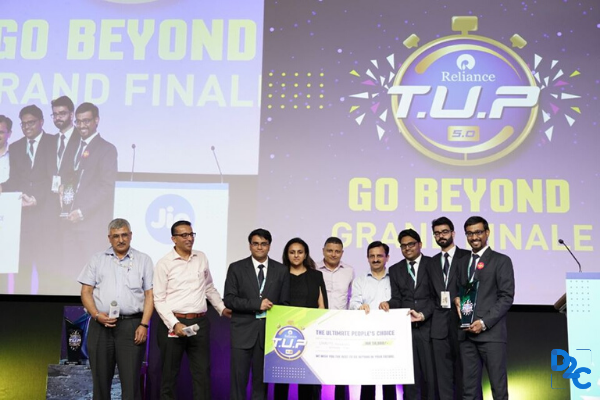 Through Reliance T.U.P., we gave shape to our idea and in three months we came up with a strong business case. We used the design thinking approach to solve the problem at hand. This helped us come up with a practical, feasible and futuristic solution which will have a strong socio-economic impact at large. This is what brought us closer to winning the title of Special Prize Winners of Reliance T.U.P 5.0.
The Challenges we faced
During the entire journey, our major challenge was to understand the technology and create a working prototype because we were not professionals to work on neural networks and artificial intelligence. Apart from that, we faced various other challenges in terms of scalability, marketing, revenue plan and when we had to reach various stakeholders. 
For the Ultimate finale of Reliance T.U.P. 5.0, a total of 14 teams were selected. IIM Banglore stood out as a tough competitor as they had IISc Bangalore and NSRCEL IIM Banglore on their board to support them. Apart from that, they gathered various certificates related to idea implementation which were not present in our case.
The Ultimate team – Starlite Warriors
Being energetic for the entire three months, being a support to other members and aiming at one goal were major qualities of the team. We were a team in which each member had prior industry experience in various fields and sectors which helped us become a strong team of warriors.
Working with my teammates was full of fun and learning. Being in a team gives you various aspects to think and work on. But it always involves conflicts, especially when you all have to agree on one point, be it marketing, revenue model, execution plans, execution strategies, etc. We followed the data-driven approach to agree on one point and for understanding the end goal, timings and thought process behind the argument. This helped us sail our ship through the conflicts.
Having a team with individual roles was the mantra which helped us turn into Special Prize Winners of Reliance T.U.P 5.0. We played the vertical manager and devil's advocate roles. This helped us think from every possible angle and that became our major forte. We enhanced the individual talent of resource allocation, marketing research and presentation skills to reach our ultimate goal.
Solving real-world problems – Reliance TUP 5.0
The competition, Reliance T.U.P., is designed to challenge conventional wisdom to solve real-world problems. And the best part was, that at each stage, it was judged by various top leaders of Reliance Industries on many aspects like marketing, finance, social and entrepreneurial acumen and strategy. The competition also covered the special guidance session and allocation of mentors to sharpen the ideas and solution to raise the bar.
Reliance T.U.P 5.0 gave us a reason to think and work on various aspects such as social impact, futuristic approach, practicality, implementation, scalability, financials, marketing, entrepreneurial acumen and a strategy to come up with a strong business case. Because of that, we got to know more about the entrepreneurial aspects, meet various business leaders, stakeholders and mentors at RIL and top leaders of India's biggest conglomerate Reliance Industries. The framework gave us a perspective on how leaders actually run businesses.
The one amazing moment
The best part of the entire competition was the idea fare which was new to 5.0 session. Idea fare gave us a chance to showcase our idea to individuals. RIL had organised a flash mob to add one more feature in the list. We used the flash mob as a platform to increase our visibility. That proved to be an eye-catching moment for all the employees and participants.