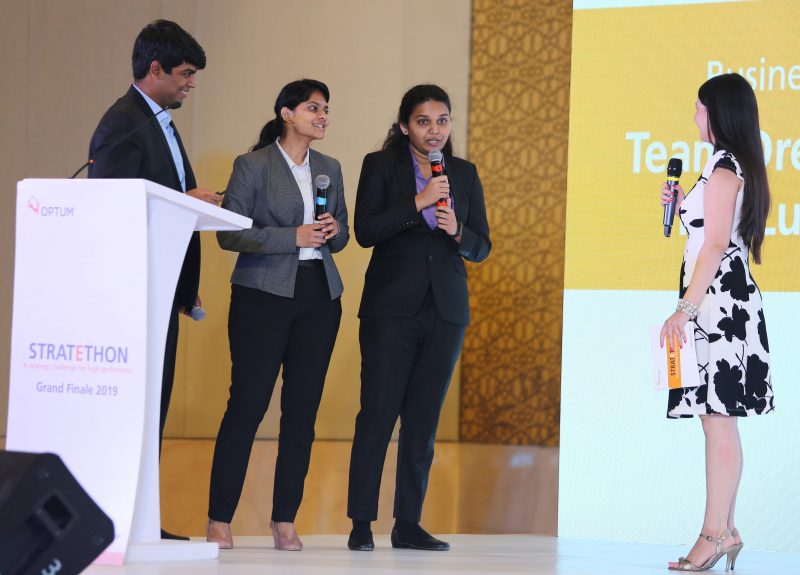 Our strategy was to dive deep into the problem statement and focus on research. We worked on it for 4 days. The case study was based in the US and revolved around the healthcare industry of the country. So, the major challenge was to understand the case at hand and get an in-depth knowledge of the same which we had no prior exposure of. Reaching the finals of Optum Stratethon, was a thrilling experience altogether. 
The finale teams 
A total of 8 teams made it to the finals. There was one team which viewed the case in a different lens altogether. They had used a genetic approach to solve the case. This is was why that particular team proved to be a tough competitor. Not only was their approach different, but their idea was beyond the scope of the syllabus for many, including us. We hadn't thought of it. 
Our team is skilled in diverse fields. We have very different perspectives which helps us get a fresh outlook every time we deal with a case. Where one person comes up with ideas for solutions, the other takes up research and the third deals with structuring the findings and solutions, ensuring everything is on the track. 
The US healthcare industry
The judgment was fair, unbiased and transparent. The organization had ensured that the students have a hassle-free journey to Hyderabad along with a comfortable stay. They took care of all the essentials. 
We learnt about the workings of the US healthcare industry, which we earlier had no clue of. We also mastered the art of working efficiently as a team. For us, winning the campus round was an amazing moment. That particular moment had instilled fresh zeal and confidence within us, which helped us ace other case study competitions as well. In all, the journey of Optum Stratethon 2019 proved to be a great learning experience for us.