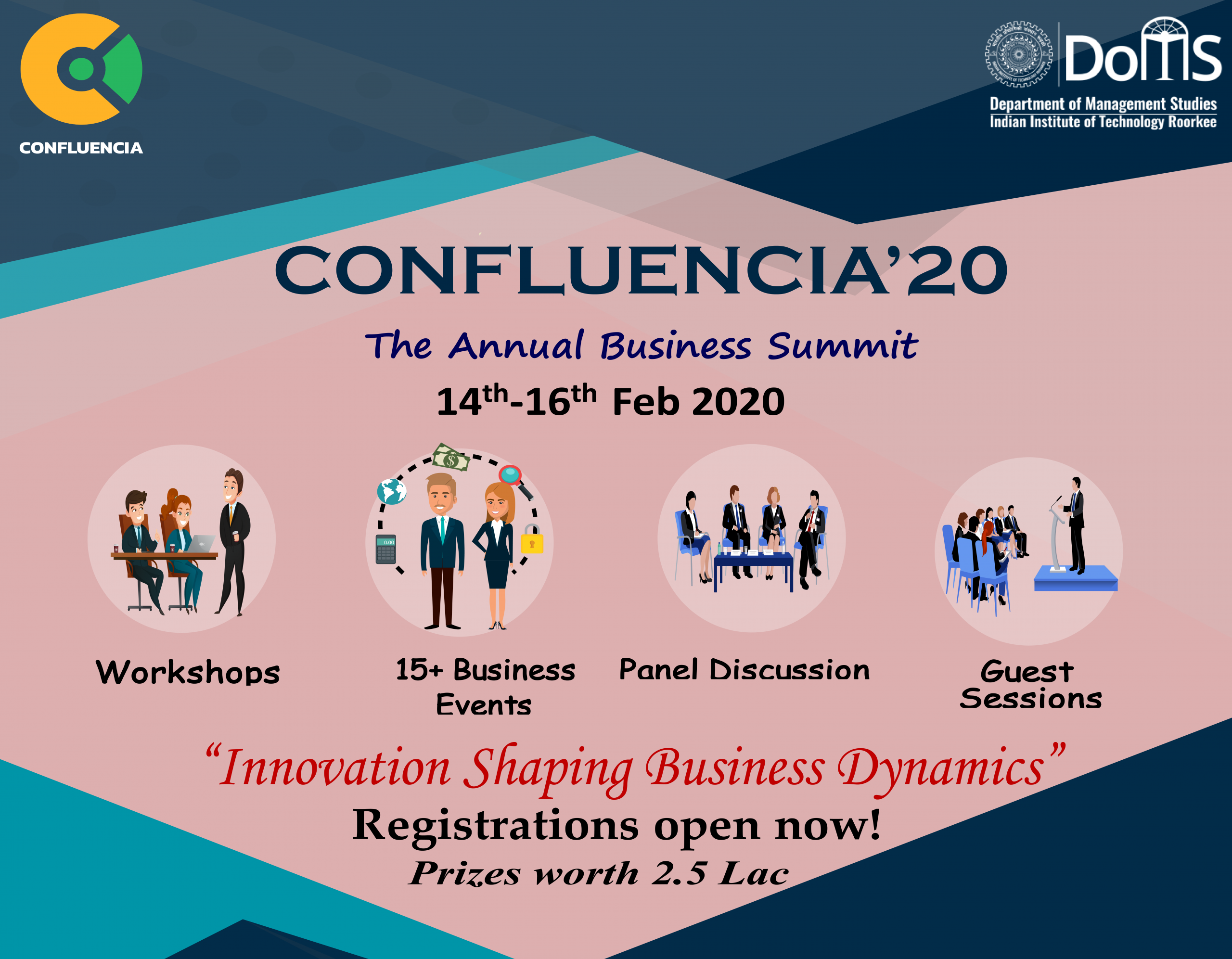 Gone are the days when excellence was only about classrooms and textbooks. Industries seek candidates who are not only technically sound but also who are well rounded and can think outside the box. Participating in college fests can make students confident and industry ready. Fests promote students to bring out their latent potential and can make them stand out amongst their peers. They promote students to interact with the right people and build their connections and develop effective soft skills.
Department of Management Studies, IIT Roorkee brings CONFLUENCIA'20, Annual Business Summit. Rapid advances in technology have perpetually kept the business
organizations on their toes. To keep up with the fast-paced and ever-changing needs of the
industry, innovation has become a key factor for a business to succeed and to address this
impact of innovation. IIT Roorkee CONFLUENCIA will be conducted from 14th to 16th February 2020 with the theme "Innovation Shaping Business Dynamics".
Confluencia is for those students who are eager to enter the industry to show, test, refine and amplify their skills. It is an engagement for like minded individuals with ideas brewing and who are excited to learn how to properly implement them.
Conceptualized in 2008, IIT Roorkee CONFLUENCIA served as a knowledge-sharing platform for heads of various organizations to impart insights to the budding youth of the country. Over the years, it has become a national-level platform for young minds from all over India to come together and collaborate in service of the greater good. Over the years CONFLUENCIA has attracted many luminaries such as Mr. M. Rajagopala Rao (Group General Manager, ONGC Ltd.), Prof. Upendra Kachru (First CEO of Maruti Udyog Pvt. Ltd.), Mr. N. P. Chandok (Dy. General Manager, Hero Honda Motors Ltd.) and Mr. Mukesh Jain (CTO, Insights, Capgemini).
What to expect
Cofluencia is not just an event, it is an emotion, a confluence of passion and ambition. The
12th edition of the event will be marked with a plethora of guest lectures, workshops, events and competitions to cater to the students across all domains and backgrounds. Apart from conducting events in the fields of Operations, Marketing, HR, Finance and Analytics, Confluencia will also be conducting various events such as Abhivyakti: The Ad-Design competition, Revolution: The Strategic thinking competition, Awaaz: The CSR initiative and Hackathon.
With plenty of participation from students and corporates alike in its past editions, this year's event strives to be bigger than ever. Hurry up, register now and get a chance to exercise your grey cells and be a part of the most happening event in town.