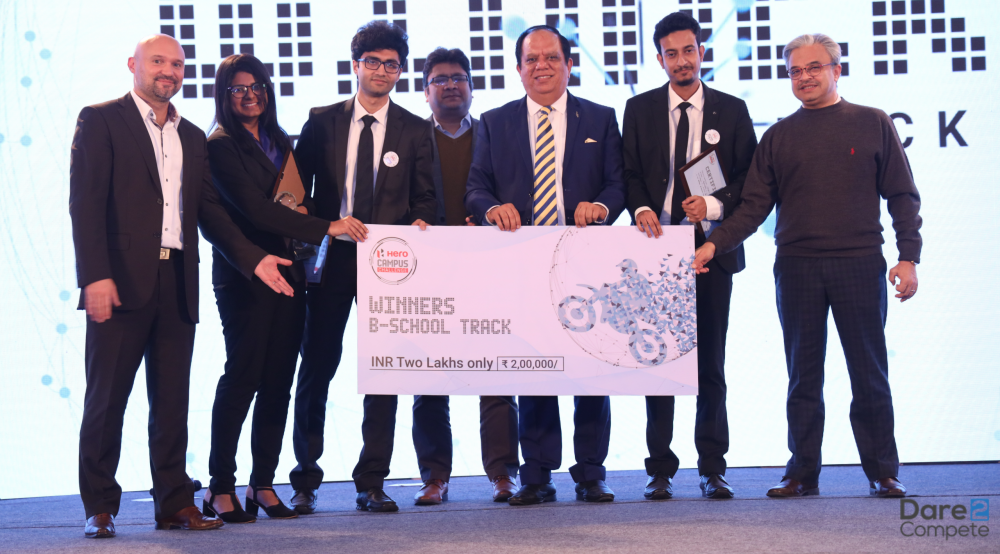 When you start out with any competition, you don't really have a set strategy in mind, because it takes a while to get used to the problem statement itself. Strategies only truly develop at a later stage. With this idea began our journey of Hero Campus Challenge Season 5. 
Our strategy for Hero Campus Challenge Season 5
This was a multi-stage competition which gave us a lot of leeway into honing our idea, not merely internally but also via lots of ground research. It was only during the latter stage when we realised that certain things about our idea were more important than others and we started pivoting and polishing it as we neared the finals. The entire process of taking the idea from a nascent stage to what it was in the end, took almost two months – the entire length of the competition.
Our strategy was to keep the discussion going. At no point did we ever stop pondering over our idea and think that we had perfected it. We worked on the problem in stages. As the competition progressed, our idea matured. 
Like with all things worth having, this too took a toll on us at different levels. Balancing everything around you is a tough job in a B-School environment but there is a lot of learning in that rigour too. That is something we constantly felt over the course of the competition. The biggest challenge we faced was in making the introductory video of our team.
The top 5 finalists and what made us different
There were 5 teams from the B-School Category and 5 from the Engineering Category in the finale. I don't think there is any point in trying to define who your tough competitors are when they've all come through thousands of entrants to reach the final 5. They were there because they were the best of the lot and deserved to be there.
At the outset, we had a very diverse team with a lawyer, a business economics graduate and an engineer. So, we could bring different sorts of competencies to the table. The diversity shone through while discussing ideas when differing outlooks refined the idea.
It was wonderful working with this team because outside of this competition we happen to be very close friends. Our team's forte was adaptability. We would be ready to drop our idea from one moment to the next if an insight worthy of notice came to our mind. It helped us in choosing which direction to go in, after having studied all the possibilities.
The learnings we garnered during the competition
Over the course of the competition, we learnt that ideas need to be polished over and over and over again, in order to stand a chance at this level. That teams need to stick together through thick, thin and whatever falls in the middle. That there is extreme roughness but no traffic on the extra mile. And that if you want something enough and are really committed towards it then you will get there no matter how many skies fall in between. Another learning that we garnered was that there has to be an element of fun attached to preparing for case competitions. If you do not enjoy the process, you wouldn't eagerly wait for the next time you can sit down to reflect over the idea.
The moments that will always stay with us
I believe there are small moments which leave the most marked imprints, moments which aren't celebrated then but in retrospect, without whom foundations cannot be sustained. As a team we saw a lot of misunderstandings as the event drew nearer, owing to a number of factors including the weight of pressure around us. It was one of these moments, right before our final submission when we had to hold on to each other even though things seemed to be falling apart. Amidst this, one amazing moment for us would be when we got the goodies prepared by Hero. The organization's expectations and investment in the competition really reflected and stood apart.
When the scoreboards are drawn and the photographs dazzle into view, people don't get to see the nights when the stars refused to shine. And yet it was that one moment, likely to never be remembered, which really stood out. Because when it went down to the wire, when it was to do or die, the three of us stuck together, despite our differences, like a family. And I think that is what winning looks like. 
It was a pleasure to be a part of Hero Campus Challenge Season 5 because of the professionalism exhibited by one and all, across the event chain, right from the first submission to the coronation. The framing of the competition suited those who could afford to invest in the idea and think things through. As for the judgement quality, I don't think we are in any position or have the potent wisdom to comment on the knowledge that these stalwarts have garnered over generations. We were there to learn and that is what we felt was most important.