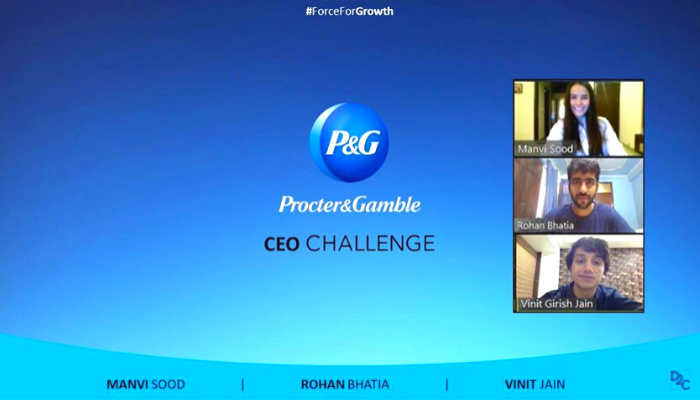 Our journey with P&G CEO Challenge began in August 2019 and it has been a rollercoaster ride ever since! One major learning that we garnered was the ability to know our consumers better. P&G always emphasizes greatly on insights and consumer behaviour that our thought-process got fine-tuned to this approach. Long hours of discussions, debates, interviews, and deliberation were what made us come up with something that we could use in our cases. This entire journey was challenging and there were times when we really had to push ourselves – but the learning was immense!
Here is an account of the winning story of a 3-member team who worked hard together amidst the Corona crisis and emerged as National winners of P&G CEO Challenge. 
Our journey started in August 2019, where we took part in the campus round. Post that, we had semi-finals, where we got selected among the top 3. And come April 2020, we had our National Round & IMEA Regional Round. 
Our winning strategy and challenges
Many courses like Design Thinking and Marketing at SPJIMR, helped us to understand the 'why' of every problem we faced in the challenge. Thus, we focussed on studying customer behaviour by doing a lot of primary research. We were able to generate key insights about the consumers and customers, which helped us to devise our proposals. We faced certain problems while understanding the voice of customers at first and faced a lot of dead ends while brainstorming and ideating. But in the end, it all worked out for well.
A seamless competition with tough competitors
We truly believe P&G has become an essential component of our MBA life, where we have spent quite some time interacting with the leadership team. The competition has been seamless given the efforts invested by the HR team, who were a constant source of support and help. Although we faced certain technical glitches, the judges were quite supportive and lent a listening ear to hear all our proposals. The mentoring sessions and interaction at each point of competition helped us to cultivate essential skills to become future managers.
Overall, 3 teams made it to the finals. Apart from us i.e. SPJIMR, we had XLRI and NITIE in the National Finals. We cannot comment on the other two as the presentation was done separately for every team. Hence, confidentiality was maintained during the entire round. However, we are sure that we had strong competitors as both colleges have proven their mettle in various competitions in the past.
Winning the challenge against all odds
We believe the complete journey of winning P&G CEO Challenge has been one with immensely exciting memories. But the most precious one was when we were announced the National Winners. It has been an unusual year for everyone due to COVID-19, and even the competition went virtual. We had to improvise our teamwork to attain productivity while working remotely. We spent countless hours on video conferencing and calls. We admit that it got tough at times, but it was all worth it when the news about us winning broke out. The key factor resided in the fact that we made the SPJIMR family proud of our achievement.
Breaking a big goal into bite-size pieces
Given the MBA curriculum, we had to juggle between many commitments to work efficiently for the competition. The pressure of the competition brings out the worst in a team. But, I believe, our curriculum at SPJIMR has helped us to not let our productivity and potential be overshadowed by such negativities. We, as a team, ensured to manage our schedules and broke the problem statements into pieces to recognize parts that resonated with the strengths of each one of us. Trusting each other's capability and having no judgments were the major takeaways for us as a team.
Talking of our team, the best thing was the synergies between all three of us. We all used to brainstorm together for hours and come up with wild and crazy ideas – each of which was thoroughly discussed and only then approved or rejected. Every member of the team provided the necessary boost of motivation at different points in time. We have all played different roles, filled each other shoes, and carried each other along right till the victory line!