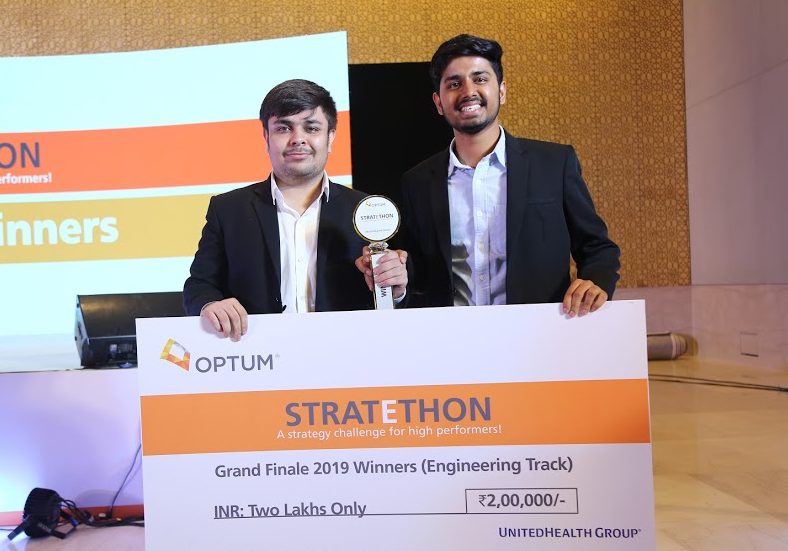 We decided to work on the problem statement strategically. We solved the case step by step, making sure that we did not miss any part. Also, we paid significant attention to the minute details. This is what helped us tackle the issue at hand and get titled as the National Winners of Optum Stratethon 2019, in the end.
What made us participate in the competition
The best part about the competition was the problem statement which revolved around the medical field. The machine learning and related algorithms through which we had to provide a solution in the healthcare industry intrigued us. This is what made us want to participate in the competition, Optum Stratethon.
7 teams made it to the grand finale. According to us, all the teams had really nice solutions and were tough competitors. The team from DTU had a different approach to the problem statement. On the other hand, the team from IIT Roorkee had developed a proper app. The app helped them produce meaningful insights. So, these two teams proved to be the toughest competitors for us.
Team Alpha: The pack of two
The team had two people, Abhinav and Prakhar. While Abhinav is pursuing engineering in Computer Science, Prakhar is pursuing a dual degree course in Ceramic Engineering. Even though we are from different courses, we were friends since the very first year of college. So, we decided to participate in this competition together. Our team's basic strength was that we had diverse skillsets. To resolve conflicts we had lengthy discussions which generally helped us reach a common consensus.
Why Optum Stratethon stood out for us
The jury panel was great. One exceptional moment was when a jury member, the VP of the company, Mrs. Prashanti, jokingly, offered a seed fund for our project. This was an exhilarating moment for us. The was the entire competition was organized was the best part. The problem statement was very unique. We believe that if people work on this religiously, this might really help in the healthcare industry. To sum up, the overall experience of the competition, especially that of picking the trophy of the National Winners of Optum Stratethon 2019, was truly overwhelming.