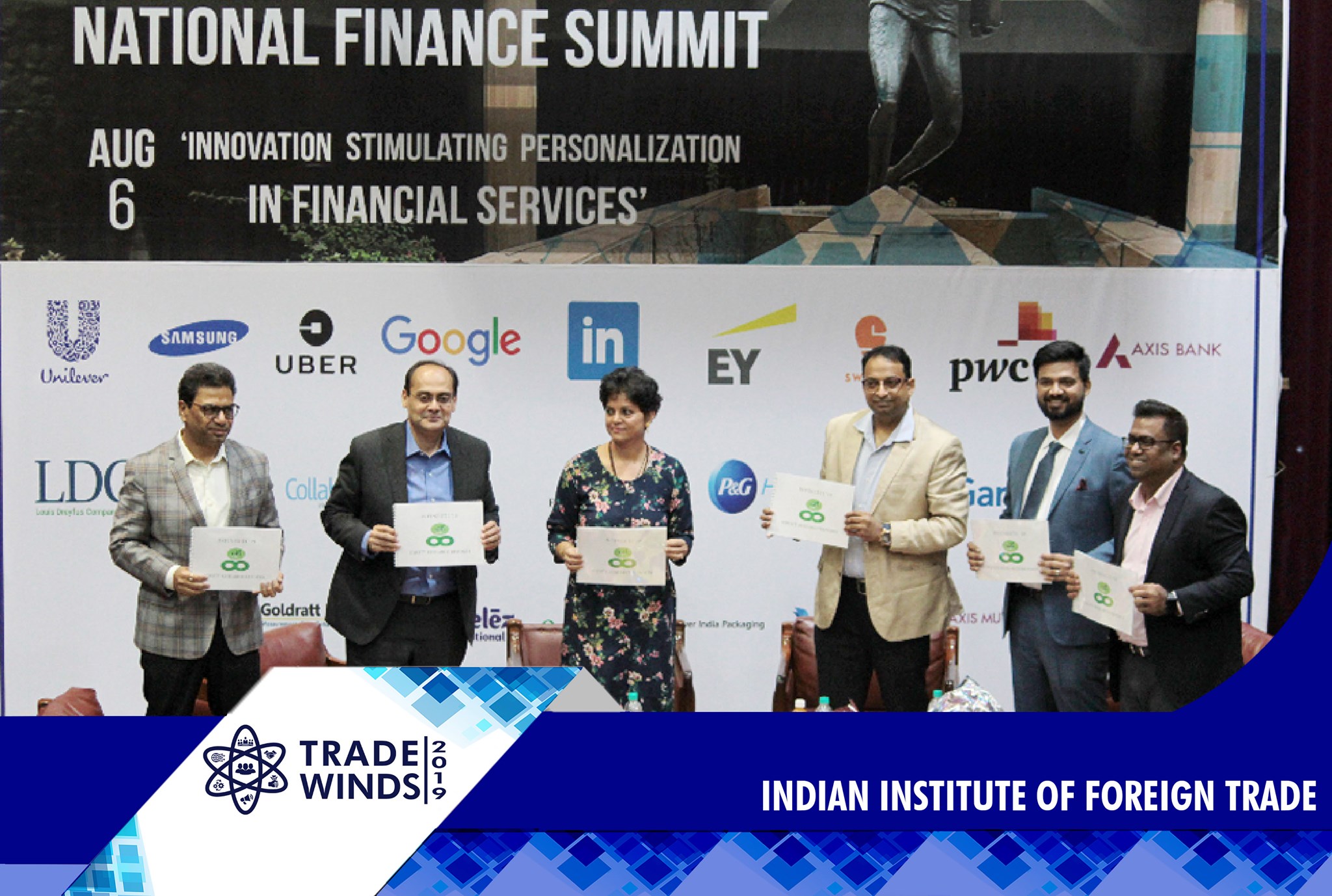 Indian Institute of Foreign Trade(IIFT) hosted the National Finance Summit and National Trade Summit on the second day of the Annual Business Conclave, Trade Winds 2019 at IIFT Delhi campus. 
Trade Winds 2019: National Finance Summit
As part of the National Finance Summit, IIFT hosted a panel discussion. It included Mr. Sanjay Khanna, Senior Leader, A fortune 100 Company; Mr. Rajeev P Pawar, Managing Partner, The Treasury Office; Mr. Gopal Menon, COO & CFO, Axis Asset Management Company Limited; Mr. Amitesh Sinha, Head of Finance, LinkedIn India; Mr. Sameer Seksaria, Vice President and Head of India Operations, Franklin Templeton Investments and Dr. Sheeba Kapil, Professor, Finance at IIFT. 
With the theme of 'Innovation stimulating Personalization in Financial Services', speakers talked about product innovation and product personalization in all categories of financial services. Also, they exchanged views on a range of topics including but not limited to personalized triggers, systematic withdrawals, chatbots, and robotic process automation. 
"Ultimately it is about making simple products that are understandable to people and that are based on the needs of the people," said Mr. Menon.
National Trade Summit
During the National Trade Summit, IIFT the panel included Mr. Anuj Agrawal, Coffee – Head, India, Louis Dreyfus Company; Mr. Mahim Sharma, Shipping and Logistics Head, Glencore Agriculture; Mr. Hitesh Jain, Director, First Metal Corp and Mr. Jagjyot Singh, CEO, Great Wall Group. The theme of the summit was 'Customization in International Trade: Perils & Opportunities'. 
Well, the discussion was initiated by Dr. Ram Singh, HOD, Trade Operations & Logistics at IIFT.
"Even in trade, customization is not an option. It is a necessity," said Mr. Mahim Sharma. 
Other panelist, Mr. Hitesh Jain said, "The product is still the same. It is the services that are being highly personalized". 
At the same time, the speakers touched upon customer's ever-increasing demands for better products and the role of technology in customization & consumer insights. Moreover, they discussed about on-time delivery, seamless supply chain and the importance of blockchain going forward despite the technology being fairly nascent.
Also, the panelists unveiled "Infineeti" and "Inside Trade", the annual magazines by the Financial Society of IIFT and BLASH – The International Trade Club of IIFT respectively.
The third and the final day of Trade Winds 2019 will have National Marketing Summit and National Leadership Summit.