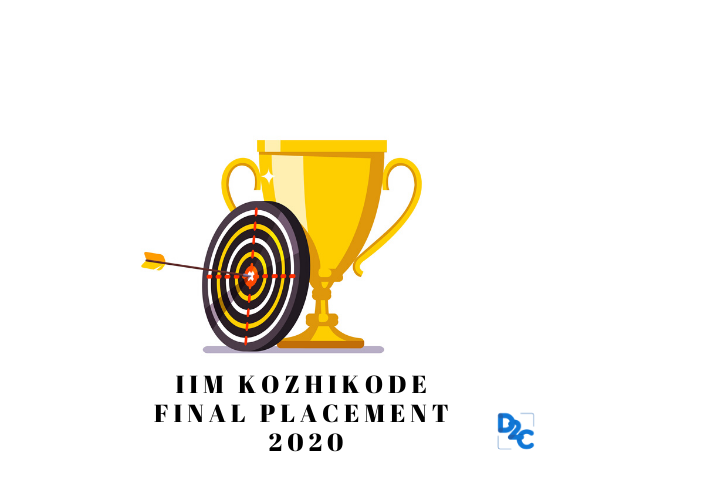 IIM Kozhikode is breaking its own record year on year! A sharp upward trend can be seen in the IIM Kozhikode Final Placement 2020 with a 22.4 percent rise in recruiters participation, a 12 percent increase in the mean and a 12.4 percent increase in the median salary as compared to the last year. The top 5 percentile bagged a mean CTC of INR 40.66 LPA followed by a mean CTC of INR 31.38 LPA by top 25 percentile and INR 26.69 LPA by top 50 percent of the participated students.
Let's take a quick recap of the 5-day drive which witnessed a cent percent placement of students by 131 recruiters.
Sector-wise recap of IIM Kozhikode Final Placement 2020
To combat cut-throat competition and for devising efficient solutions, the recruiters hired consultants in the first place which is clearly indicated by the highest number of offers rolled out by the consulting sector. However, the sales and marketing sector retained the tag of the highest paying domain in the final placement.
General Management Sector:
With an average CTC of INR 21.64 LPA and highest CTC of INR 28 LPA recruiters like Airtel, Mahindra, Reliance, Capgemini, RPG Group and Tata Administrative Services extended more than 50 percent offers in this domain. First-time recruiters like AB InBev and Rebel Foods also entrusted the skilled students of IIM Kozhikode.
Sales and Marketing Sector:
GE Healthcare, HUL, Lenovo, Maruti, Bajaj Auto, Philips, ABFRL, Asian Paints,  Pidilite, Samsung, Sony Pictures, TATA Sky, and Tolaram Group among others recruited a large number of students to be a part of their team. This domain saw a remarkable increase of 20 percent in the average CTC as compared to last year. 
Consulting sector:
This sector held the lion's share in the recruitment process with an average CTC of INR 23.75 LPA and highest salary of INR 34.36 LPA. Big-names like Deloitte, Accenture Consulting, Accenture Strategy, EY, Infosys Consulting, Optum, PwC, and ZS hired some of the brilliant minds into the consulting world. Besides this, Bain & Co. and BCG solely made 15 offers.
IT/Analytics Sector:
This remained the second-highest paying domain with the highest CTC of INR 50 LPA. Prominent recruiters like Microsoft, Myntra, VMware, Cisco, Citrix, JDA, and Wipro offered more than 40 percent of their jobs with the designation of a Product Manager. Other big conglomerates like American Express, Google, Gramener, IBM, Sabre, WorkIndia also pitched in the IM Kozhikode Final Placement 2020.
Operations Sector:
New-entrants like Blackbuck, Bounce, Cloudtail and Udaan offered multiple roles in the placement drive. This sector attracted an average CTC of INR 28.98 LPA and highest CTC of 40.50 LPA, thus marking an increase of 19.50 percent in the mean CTC as compared to last year. Other prominent recruiters include Amazon, Flipkart, Ninjacart and Uber.
Finance Sector:
Citi Bank, Credit Suisse, Axis Bank, Deutsche Bank, D.E.Shaw, JP Morgan Chase & Co., HDFC Bank, HSBC, ICICI Bank, Goldman Sachs, Nomura, and State Street extended more than 65 percent of the total offers in the finance domain with the highest CTC of INR 37 LPA and average CTC of INR 20.38 LPA.