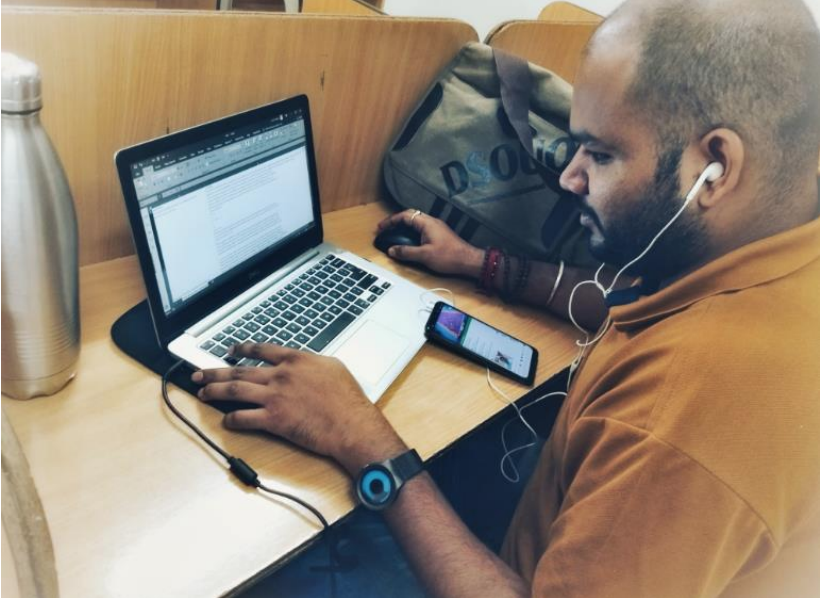 Have you ever played a PC game called Cricket 2007? If yes, you would have created a customized personal player and have given him your name, the player who was an all-rounder. Because you'd set his skills really high, you'd expect him to be the highest scorer as both, the bowler and the batsman. It sounds unrealistic, right? That's the only problem with all-rounders. Our society accepts them even when they are merely good and not the best in everything they do. On similar grounds, we had an all-rounder of our campus too. If you'd like to know about him, keep reading. 
"Never judge a book by its cover". This quote was obsolete for me but it started making sense in college. What could be different about a person who is deliberately bald, has small eyes and is healthy enough to pick a fight with anybody? Well, you might call him arrogant, stupid and belligerent, but our campus hero is just the opposite. 
The all-rounder of our campus
Alright! I am talking about Sumit Saxena (Batch 2018-20) who is an all-rounder of our campus. A determined person, he knows what he wants in life. A military-grade water bottle, a sling bag that contains a case of specs with his ID with a pen drive tied to it, his laptop and a wireless mouse are the necessary tools of his life. 
But why do I really call him a campus hero? Well, he has been the topper for 2 consecutive semesters. It seems as if he has an additional brain that maximizes his effort and makes him work better. No matter how boring the lectures are and how the whole class fights to grab the last benches, he always chooses the first bench. 
Sumit and his unique taste in movies
The curious brain of the class, he is always the one to ask questions. I sometimes wonder if he is the Sheldon from The Big Bang Theory. And trust me when I say this, I am not exaggerating at all. He is the calmest person I have known. Even after being extremely good in studies, he is humble and helpful. During exams, he teaches the same topic to different groups of students. Even the xerox shop keeps a soft copy of his notes. I wonder how he manages to do everything in just 24 hours!
He never wastes his valuable time in idle chatter and is also a skilled sportsman who can play any game with perfection. Besides sports and studies, he likes trying new things in life, even if he isn't very skilled in them. One such instance happened on 15th August when he planned to sing one of his favourite songs from the movie 'Kesari'. He then used to practise singing every day. This semester, he is planning to hit the gym. 
Even if people do not show gratitude towards him, he never stops helping others. In the hostel, he is just a regular guy who uses social media for hours, laughs on silly jokes and videos, does childish things and stays happy. At times, he watches some ridiculous movies and series. But ultimately, he has a unique taste. And that's what makes him an all-rounder of our campus. 
This article was submitted as an entry to Become an Author with Dare2Compete.