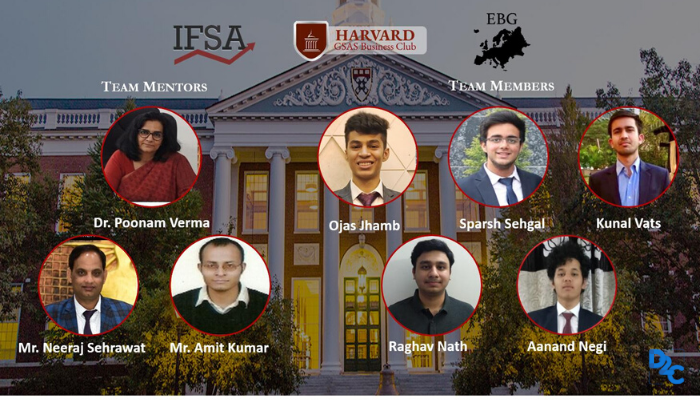 Shaheed Sukhdev College of Business Studies (SSCBS), a college under the University of Delhi, and funded by GNCTD, takes immense pride to announce that it bagged the first position for India in the Global Case Competition at Harvard while representing the country at the International Finals of the prestigious event. 
The most prestigious competition
This is a first-of-its-kind and distinctive win for India. The competition commenced on February 24 with the launch of a preliminary round witnessing participation from over 140 teams from across the world. The preliminary round required all teams to prepare pitchbooks comprising in-depth financial valuation, financial analysis and strategic analysis of a hypothetical M&A scenario comprising Amazon and Netflix. 
The preliminary round finished on March 21st and was extremely intense, as only 10 out of the 140 participating teams were supposed to make it to the Final round. The qualifying teams for the International Finals (Global Top 10) were announced on April 7, in which our team from Shaheed Sukhdev College of Business Studies was one amidst nine other teams from London Business School, HEC Paris, John Hopkins University, Massachusetts Institute of Technology, FEA USP Sao Paulo, ESSEC Business School, Schulich School of Business and Chinese University of Hong Kong. 
The International Finals were held from April 18 to April 25, where our team from Shaheed Sukhdev College of Business Studies (SSCBS) represented India and presented the entire case solution through a video format. It was followed by a live Q&A session with judges from top-tier Consulting and Investment Banking firms with excellent Academic backgrounds who grilled us on the solution as well as the key technical concepts used in the solution. 
The winning team – Providentia Capital
Our team consisted of 2nd-year students, namely Sparsh Sehgal, Ojas Jhamb, Kunal Vats, Raghav Nath and Anand Negi, under the able mentorship of well-experienced faculty members Mr. Neeraj Sehrawat and Mr. Amit Kumar. On our achievement, SSCBS' Principal, Dr. Poonam Verma said "Once again, our students have got home a huge laurel at global level, adding to many stupendous achievements of the college. This award is all the more reckoning as India has emerged winner in this event for the first time".
Our team competed alongside other teams with the background of competitors ranging from undergraduate to PhD level of study from Massachusetts Institute of Technology (MIT), John Hopkins University, HEC Paris, London Business School, among others. SSCBS was the only Indian college amidst such prestigious institutions, making the finals even more exhilarating and gruelling. 
Global Case Competition at Harvard
While every year the final round of this esteemed event takes place at Harvard University, this year it was organized via video conferencing due to the Covid-19 pandemic. Top-tier business executives and professors from various prestigious institutes and corporates judged and declared Shaheed Sukhdev College of Business Studies as the winning team with a grand prize of USD 10,000. 
The Global Case Competition at Harvard is a Business and Finance based Case-Study Competition, the most prestigious of its kind. The case aims to provide participants with a real-life M&A deal structuring experience wherein they perform financial analysis, conduct valuation and perform due-diligence, all to compete against the best teams across the world, leveraging their college learning, business and communication skills.