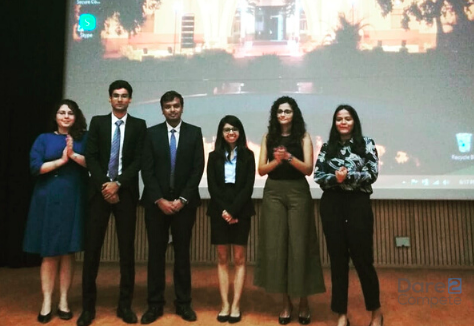 HUL TechTonic was a competition which required a technology-based solution to achieve a 'Circular Plastic Economy'. Hence, we started off by creating a team which had all members with an IT background. This ensured that we had the right skill set required for the competition. We began by reading the case many times to be completely sure of the scope and the ask of the case. Once we were satisfied with our understanding, we proceeded to do a thorough research of the work that Unilever had done in the same field. We also read extensively about the industry practises, steps taken by other competitor firms and all the latest research that had been done in the academic field. Using this as a base, we conceptualised a rough design and skeleton of our solution.
Think what the competition will think of
Our biggest challenge was to ensure our solution was not completely app-based. In a technology-oriented competition, it was almost certain that most other teams would think of app-based solutions. We wanted our approach to be innovative and out of the box which was feasible and easily implementable as well. We also had to ensure that our solution would cater to both rural and urban markets.
Our learnings from HUL TechTonic were immense. We learnt how to leverage technology to cause disruption in an FMCG company's distribution network and saw how it could be used to safeguard our environment from pollution. We also learnt how to manage our time and hone our communication skills.
A mixed bag of complementary skills
Competition was intense and 5 teams were shortlisted for the campus round. All the shortlisted teams were from PGP2 and ours was the only team with a mix of both years. This was the first major case competition for 2 of the 3 members in our team. However, Anirban's strong technical knowledge base, Aishini's past FMCG experience and Sambit's exposure to several competitions ensured that we could come up with a unique solution that addressed all the stages of plastic lifecycle. We came out victorious and qualified for the National Finals held in Bangalore.
HUL TechTonic – A levelled playing field 
The finals started off with a presentation by the director about the history of Unilever and the role of IT in its growth. And then the competition commenced. Unilever ensured that the entire process was fair because no team could see the presentation of others. Hence, no one had an undue advantage of knowing the questions being asked by the panel. All the teams were equally strong but the wild card entrants had the X factor because they beat a lot of teams from other colleges on their journey to the finals.
Overall our journey was exciting. We enjoyed the hospitality extended by Unilever. Over a sumptuous buffet, we got a chance to interact with their leadership team to discuss our solutions on a one on one basis. This was an enriching experience for us and all MBA aspirants should definitely get a chance to go through such a learning curve.
The Bengali Way
The journey fun, with memories that we made would last for a lifetime. Deciding the name of the team was one of them. All the team members were from West Bengal. So, we wanted a name that would represent the Bengali culture or feeling. We thought about many and eventually came up with 'Bangaliyana' which means 'the Bengali way'.