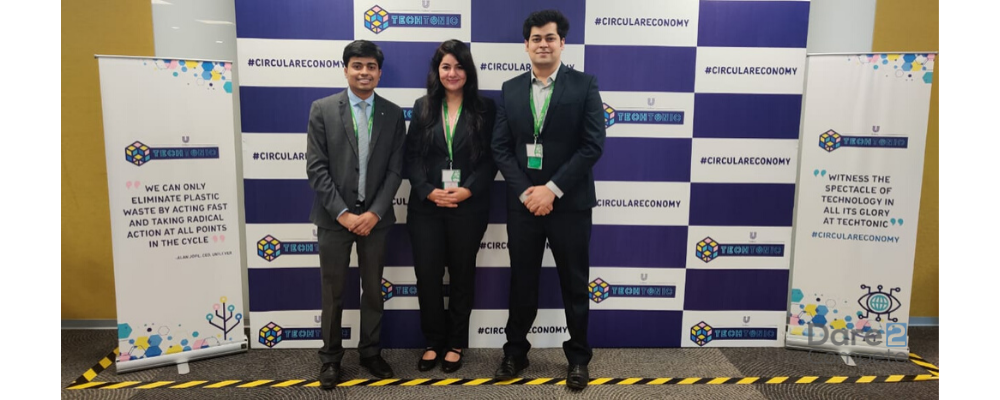 Our team represented SBM NMIMS, Mumbai as wild card entries for HUL TechTonic 2019. We didn't go through the campus final round that other non-wild card entries went through. That did not get the better of us, but instead motivated us to be as detail-oriented as possible so that we would leave very little room for doubts and we were prepared for every question that could be thrown our way.
Identifying the problem statement is the way to go
There were a total of eight teams. Our strongest competition would have to be the team from NITIE. Our strategy was to make the idea as implementable as possible. 
We started off our brainstorming sessions by identifying two areas of the supply chain where maximum waste was generated. These were the supply side and demand side. Different ideas were evaluated from different perspectives. Also, an extensive primary and secondary research was done to validate the logic behind our idea. We developed an ecosystem that would gamify the experience for recycling plastic at the consumers' end and streamlined activities to close the loop.

Team-work and picking up the pieces
The competition was organized very well. It was definitely challenging and had us put on our thinking hats through the whole journey. The management and the panel had several informative sessions for us prior to the presentations which helped us gain perspective on the way technology is being implemented at Unilever and in several other industries. Another key learning that our team gained post the presentation round and before the announcement of the winning team was that if we were to collaborate our team ideas, we already have a start-up in hand! Most of the teams filled in for what another team's idea and implementation strategy lacked. Our key takeaways from the whole experience offered to us by HUL TechTonic 2019 are the importance of diversity, collaboration and having an analytical mindset.
Our team comprised of members from diverse backgrounds. We complemented each other. We didn't have conflicts and the whole journey was filled with discussions and humor. A flair for marketing and diversity in ideas brought us together as a team.