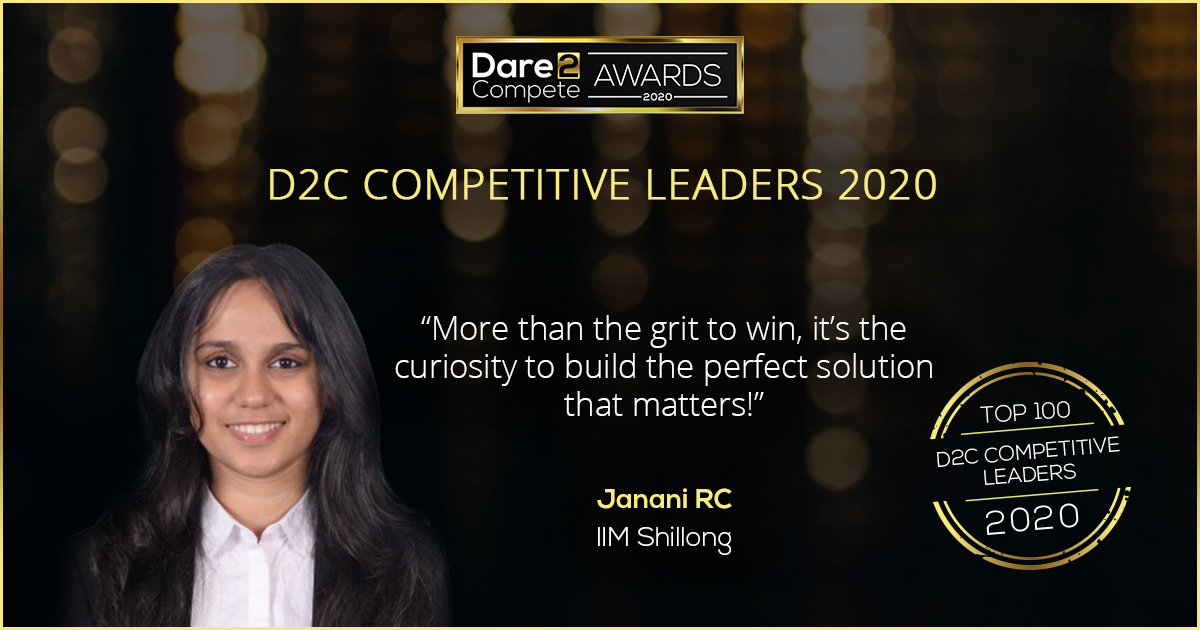 Having featured in the winner's list of TATA Steel-A-Thon 2019, Mahindra War Room Season 12, Hult Prize 2019, and Reliance TUP 5.0; Janani has made a successful entry among the Top 100 D2C Competitive Leaders 2020. Her sharp analyzing skills and ability to deliver actionable marketing insights have always surprised others. Here is an account of her experience of facing corporate competitions through B-School.
I was overjoyed to make it to the prestigious list of Top 100 D2C Competitive Leaders 2020. The recognition will remain one of the most cherished moments of my MBA life. Featuring on D2C is a dream for every MBA candidate and am glad corporate competitions aided as stepping stones bringing me closer to this reality.
Competitions are the real mirror 
Like every other MBA student, I learned numerous concepts and theories in college. I believe that learning is beyond books and a majority of it lies in various forms provided to put a student's knowledge and strengths to practical experimentation. From this bag of golden opportunities, I chased the treasure of corporate competitions as my primary objective was to learn and experience. The competitions truly proved as a self-test for me to foresee my approach and performance in the corporate world. 
Keep calm and stay motivated
Every corporate competition is a thrilling roller coaster ride at the end of which my reaction has been "once more". As much as I enjoyed the ups where the team celebrated every small success together, it is the twisted downs that have learnings of their own that are much beyond books and classes. During these difficult times what helped me most is a calm, positive and give it all approach.
A word to the wise
These are some of the major learnings of my entire MBA journey that can be helpful for a few:
Choose team members who are compatible to work with and ensure to bring different expertise to the table through the team's diverse skills and backgrounds. 

As important as it is to put forth ideas to the team, being receptive of their ideas and questioning it from different angles is the key to building the solution strongly, brick by brick. 

Extensive primary research from credible resources is crucial as it acts as a solid backing to convince the panelists during the presentation and especially the Q&A session of the challenge.
On top of everything, remember that more than the grit to win, it's the curiosity to build the perfect solution that matters!
Overall, this award will remain close to my heart. My peers, family, and friends, everyone was elated. Warm wishes and hearty congratulations poured in from them as they came across this news. They were proud of my accomplishment and their encouraging words inspire me to achieve more in the corporate life ahead.
D2C Competitive Leaders 2020 is a part of Dare2Compete Awards 2020, held every year to celebrate excellence portrayed by stakeholders of the B-School ecosystem.