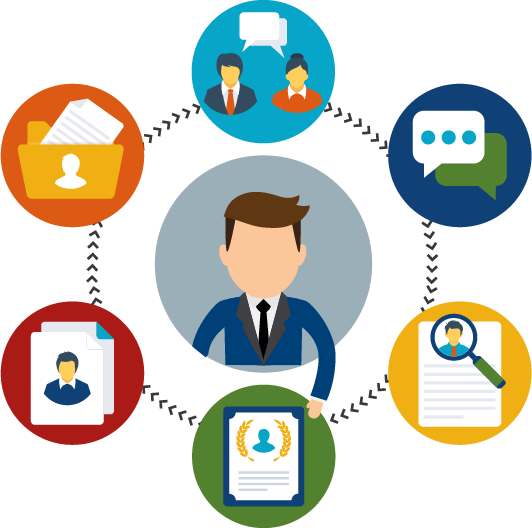 You must've already started hearing talks about the 'summers' as they are popularly called. Come September and B-school students nationwide, including you, start pulling up their socks and preparing their ammunition for the annual lucrative summer placement process.
As a first-year MBA student, it will be your first chance to prove your mettle in the domain you are thinking of specializing in. It will also be your only chance to land a PPO that secures you for the final placements. Are you ready to make the best of this opportunity?
But before that, what exactly happens during the summer placements? What's the step-by-step summer placement process for it? When do you start preparing? (Hint: already). All this and more is covered in extensive detail in this article.
The Summer Placement Process
Here is how the most grueling and exciting time of your first-year proceeds:
The Placement Committee oversees the entire process. You begin by preparing your CV wherein you list every glorious deed you've ever performed. You spend days and nights perfecting it with the help of your seniors. The process usually starts in June-July when you begin collecting the raw material and goes on, until August.
The placement committee then verifies all the CV points with the utmost care and asks for a proof/reference for each point mentioned.
Now, companies that arrive on campus make impressive pitches to attract the best talent. For someone who hasn't decided the direction they'll take, it can be a tough decision.
After this, you begin filling company forms, writing reports, cracking cases, and taking psychometric tests to land a shortlist. This happens around September and companies start revealing their shortlists after their presentations, if not on the day of placements itself.
Along with the results of the MBA terms, recruiters look at your past achievements mentioned in the CV to arrive at a decision. They size up each candidate based on the following parameters:
All top recruiters (especially in the Consulting and IB domains) will pay a high stipend to students who performed well in Xth, XIIth, and UG. University/ department gold medalists are favored even more.
Girls and non-engineers are preferred here, too.
Recruiters have a soft heart for brands. UG from old IITs, CS engineers from Tier 1 colleges, CAs, economics/ commerce graduates from SRCC/ Stephens/ Xaviers are all looked upon favorably.
If you did IB/ Managerial/ Consulting work with a top firm for more than a year, the recruiters would be happy with you. However, if you are an engineer with more than 3 years of work experience, then a fresher will be chosen over you. Only Operations companies care about the work experience of an engineer.
Internships/ Research Projects
Either of these with a big brand is suitable.
If you led more than 100 people, then that's a huge positive. Anything less than 100, seldom cuts.
College level activities are impressive. Anything above the state level and other relevant debating and business quiz points, score higher.
Before your breath becomes shallow thinking of how you don't have what it takes to meet the recruiters' criteria, remember this: every recruiter will weigh you differently for each parameter depending on the company requirements. Make your CV as relevant as you can to the specific role/ company in which you are applying.
After the shortlist, the real prep starts. Finance firms tend to focus on market knowledge and aptitude. Consulting firms have a case interview process and guesstimation exercises whereas marketing and e-commerce firms have GDs. Hence, once the shortlists are received, the real, focused prep can start.
Finally, the D-day arrives. The whole process is carried out differently in different institutions, spanning different number of days. There might be Day 0, 1, 2, depending on the rounds a company holds. All of these culminate in an interview which is scheduled based upon your and the company's preferences. Most firms initially interact with candidates face to face. Some conduct interviews via phone, and hence, those interviews are pretty short. If made one, candidates are required to make a quick decision about whether they want to accept the offer or not.
Short Note: How To Make The Best Of Summer Placements
As a first step, decide on the companies and the roles you will be applying to. These will determine the shape your CV will take and the achievements and certifications you'll include in it.
Talk to your seniors about the visiting companies once the presentations start, but don't take their complete word for it too. 8 weeks would be too less to judge a company entirely.
Throw all of your weight in the preparation phase and study all that you can about the domain you are interviewing in. Participate in mock GDs, interviews, study body-language, proper attire, and basically, prepare your A-game for the D-day.
On 'The Day' itself, be confident and have faith in all the preparation you have done. If you have given your best shot at each step, then there's no one stopping you from having the happiest 'summers'.
Conclusion
Whether you get the summer internship you want or not, the important thing is to not let the opportunity go waste. Both you and the company are getting a chance to see whether you would be a good fit for each other. So, learn as much as you can from the environment around you so that you can make informed decisions about your career later on.
All in all, summer internships can be a life-changing experience, whether it is in terms of the clarity developed or the PPO you bagged. You'll always gain something out of it.