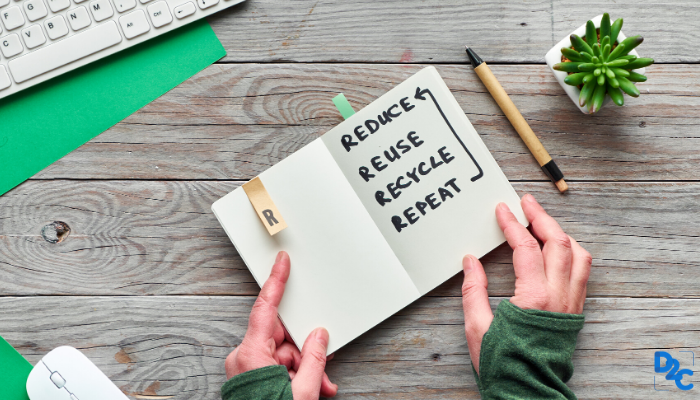 Sometimes I wonder that maybe we have heard so much about climate change and the ways to reduce carbon footprint that most of us have become comfortable with its repercussions. Just like when we don't complete our antibiotics course because we feel better in a day or two after taking medicines. But annoyingly, the next time when we rush to the doctor with the same illness, he increases our dosage to fight the virus because of our prior ignorant behaviour.
Alas! My behaviour has been ignorant so far as I was not able to see any immediate negative impact of our lethal (for the environment and eventually for us) actions. As the MBA curriculum started bombarding us with numerous subjects, one subject shook me to the core and that was Responsible Innovation for Circular Economy. In this subject, we closely studied the after-effects of our detrimental habits. In our final project, we analysed the social and economical conditions of Ragpickers and the whole process of Waste Management System.
How my perspective changed
The whole project seemed simple at the beginning. We just had to visit the Municipal facility where the waste is dumped and had to cover some ragpickers and ask them questions about their whereabouts and life in general. But the moment we stepped in the premise of waste collection centre, the sight was horrific. 
The huge piles of unsegregated waste and its pungent odour left us flabbergasted within an instant. I could see all the plastic containers in which I have rejoiced several cups of coffee and maggi dumped in those huge piles. What was a lot more horrendous was to witness people, who were manually segregating plastic items from these heaps. We talk so much about the quality of life and equal rights. But that whole scenario made me realize how marginalized people are living in reality. These people were working there the whole day, the place where we were not able to breathe properly, with the hope of finding valuables (For them plastic is a valuable item) from the dumpsters.
The gap between us and them
In our country, there exists a huge void when it comes to making people realize the ugly repercussions of their day to day activities. Surprisingly, our understanding of the type of wastes is so narrow that we hardly separate dry waste from wet waste. We proudly acknowledge that it is our responsibility to only send the waste off to the dustbins. We hardly think about the people who come and collect this waste in the later part of the value chain. Forget about segregating the waste material, we also tend to discriminate waste collectors. We deprive them of the basic human rights, knowingly or unknowingly.
There is a strong need to make this whole system structured so that these unsung heroes can also be credited their share of rewards. A lot of structural changes can be implemented if the government starts paying heed to the inaudible yet prominently visible plight of the people working in this sector. Undoubtedly, some people are doing incredible work in the field of waste management with the aim of making processes sustainable. The need of the hour is to start owning our responsibilities and contributing in the best possible manner. 
Here's what we can do
We need to apply the concept of ripple effect here. Every action matters, no matter how small or big it is. There are a plethora of ways in which students of various colleges can take the first step of making their campus green and reduce the carbon footprint of the institute as a whole:
1. BYOC: Bring your own Cup
As we are familiar with the concept of  BYOB, why not replace B with a C? Bring your own cup. This will be in order to reduce the plastic waste generated after consuming beverages in them. The step seems difficult but do not to forget that 'C' is just a letter away from 'B'.
2. Cut the Scrap
The Student bodies of college should talk to the administration about the tonnes of paper waste generated in terms of case studies and notes. Everything is digital nowadays, so why are we wasting paper? Also, think about the process of cleaning your room which will get simpler when there is no paper garbage. This will go a long way in helping you reduce the carbon footprint of your college.
3. Along with the legacy, pass on the books too
We can have small book donation camps at our respective campuses where we can donate or exchange books. In this way, we can promote sustainable consumption and increase the lifecycle of the books.
4. Clean your plate like a slate
The idea is to dispose off the leftover food items in a separate container before you put your plate for cleaning in the cafeteria. You can always request the cafeteria authority for this and they will happily accept the request. This food can later be used for other purposes.
5. Remember trees when you set out on shopping sprees
A lot of commendable work is being done in the field of sustainable fashion. Sometimes we tend to shop even without any particular need for it. It is advisable to all shopping lovers to always weigh their choices against the need. Don't forget the amount of paper and plastic used in the packaging of these items just to get them delivered to your doorstep.
This article was submitted as an entry to Become an Author 2.0 with Dare2Compete.