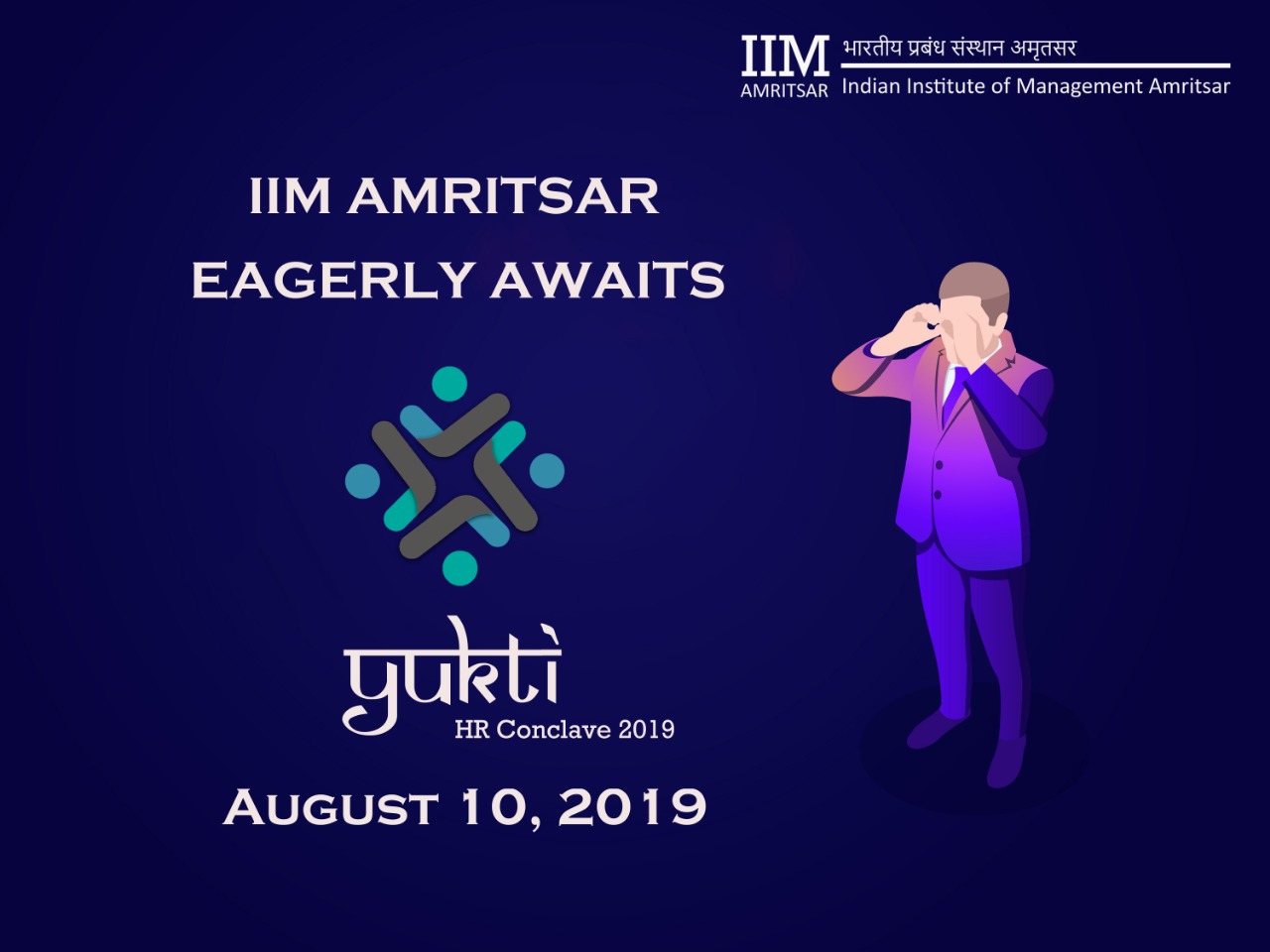 Indian Institute of Management (IIM), Amritsar is coming back to play host to the fourth edition of 'Yukti 2019: The HR Conclave' on August 10, 2019 at Radisson Blu, Amritsar. 
The conclave aims to provide a podium for veterans from the industry to interact with the budding managers on the recent trends and developments in the area of Human Resource Management. Also, this year's panel discussion will focus on the traditional work culture and the change in the nature of workforces and attitudes.  
In addition, it aims to provide the student fraternity at IIM Amritsar a holistic view on how the field of HR is being re-conceptualized by changing perceptions of employers and employees. Moreover, it also stresses on creating a generation of managers having a deep understanding to navigate them in the current dynamic business scenario. 
Deep down, the idea is to analyze these challenges and conclude with tangible solutions for the same. With the two intertwined themes, the discussion wishes to explore the functioning of HR in an organization. It also focusses on the changes required to deal with the change of perception, thus making way for the new generation.
Besides that, the Yukti 2019 HR conclave is segregated into two panel discussions. Here are the themes:
Panel 1: Challenges and Opportunities in Employing Gig workforce in India 
Above everything, organizations are looking forward to reduce costs by doing away with the traditional mechanism of hiring and training.  Also, they want to engage readily available talent and skilled individuals who can get the same work done at a lower cost with great interest.
Furhermore, the panel discussion will focus on the need (or lack thereof) for gig workforce with related challenges, with the panelists sharing their experiences. 
Panel 2: Accommodating Gen-Z in the modern workplace
Well, this new generation or the Gen-Z is vastly different in its expectations and offerings. With that, there is a need to bring an unprecedented level of technical skills to the workplace along with autonomy, flexibility and variety. Moreover, organizations need to come up with new policies and practices to attract and retain the Gen-Z workforce.
Also, the panel discussions will include Mr. Rajendra Mehta, Chief People Officer, DHFL; Mr. Sandeep Batra, SVP & Head HR-Enterprise Business, Digital Transformation and Corporate, Vodafone Idea; Mr. Sameer Mathur, Director HR, Royal Bank of Scotland; Ms. Sonali Majumdar, Head HR, Safari Industries India Ltd.; Mr. Raj Dharmaraj, Head HR- Corporate Functions & Location, Cognizant Technology Solutions and other eminent personalities from the corporate world.